No you sick freak, not nookie. KNOOKING. Knooking is all the rage (in my house). Knooking is knitting with a crochet hook.
Read all about it here first –> EVERYTHING YOU NEED TO KNOW ABOUT KNOOKING and EVEN MORE
Back yet? Good. Lets talk knooking in the round.
I've looked all over the internet and have not found a technique to knook in the round. I can't find any resources on increasing. So I made up my own. Please bear with me as I am not very good as describing things. My mother once said in the kindest way possible "You're an idiot with words". So here we go.
First you need a knook. Here be mine.
I totally just wanted to show that off. Do you know how long it took to drill through an aluminum hook? I also got a hole in a D hook. How awesome is that? My hand is still numb.
Onward
My amigurumi loving friends will know the adjustable ring, also known as the magic ring. If you are unfamiliar check it out here –> ADJUSTABLE LOOP
The way she holds her yarn looks awkward but you get the point right? Here I put in 5 single crochet.
Pull the loop tight but don't join with a slip stitch or anything. The first row is kind of funky because you're knooking in crochet stitches.
First insert your hook in the back loop of the stitch.
Then draw up a loop. Not so hard, right?
Then put your hook through both loops of the same stitch.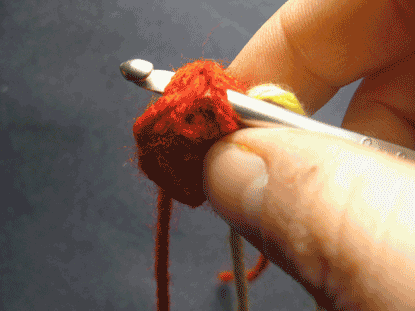 And draw up a second loop.
Tada! An increase.
As you increase you'll notice that you can't fit your hook in the next stitch with all the stitches on the hook. Pull the whole hook through and leave your stitches on the cord before going on the to next stitch. Like so
After every row you'll see your cord is in the last two rows. Before you start the next row you'll have to pull out the cord from the bottom row.
Here you see what I mean. (sorry for the funky picture, I don't know what happened to my camera)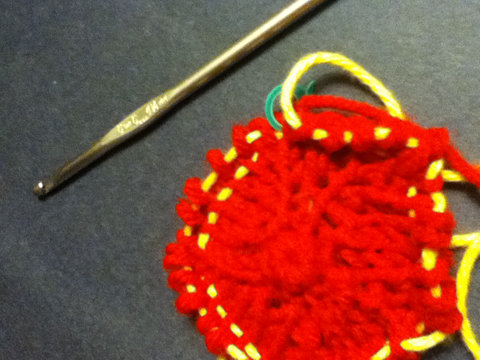 My yellow cord is wrapped around twice. You can't just tug the cord through, you have to work it through. I use my crochet hook to pull the tail through every few stitches until it's out. Slide your work down the cord a little and move on to the next row.
You can't increase this way on the next round since you'll have all knit stitches on your cord. I increased by purling and knitting in the same stitch. Purl in the stitch, pull up a loop and then knit in same stitch pulling up a second loop. Don't forget to slip on a stitch marker to denote the beginning of the row.
So there you go! Knooking in the round. Here is my finished product
There are a few mistakes, don't mind them. I really enjoy knooking and I would like to see this technique more in the future. If anyone finds more resources than the website I posted above please share!
Edit: My mother found a better cord than using plain old yarn. Flexible beading wire. I have yet to try it but she says it's flexible enough to work with and it doesn't split like the yarn does. If you have any beading wire laying around give it a go!